This is my "Kaspersky Labs" fan page :-)
Premier Protection against Viruses, Hackers and Spam has one name --> Kaspersky Lab. No matter if home user, company or even ISP, you will most likely find a good solution powered by Kaspersky Lab for your environment. Please take some time and visit the multi-lingual website at http://www.kaspersky.com/ for further information.
For my private pleasure, I did make me some pictures and since people keep asking "where can I get that?", I decided to put up this small webpage. This is just the beginning (Dec 2004) and it might eventually happen, that this page gets more data of such kind, if I`ll find the time and inspiration to continue.
What is here for now:
A background for my mobile phone
A background for my desktop(s)
If you for whatever reason like it, please feel free to grab it from this page. The Desktop Background is a default "wallpaper" of KDE on some OSs and is made by "lightmaker". I liked the "only_k" most of all default KDE wallpapers so I used it as base and modified it a bit (painting 3D with a simple 2D paint program is much fun).
---
* Well, here is the mobile phone screen (btw, in case you didn`t know, in Japan MOST Cell phones are sold including an email account)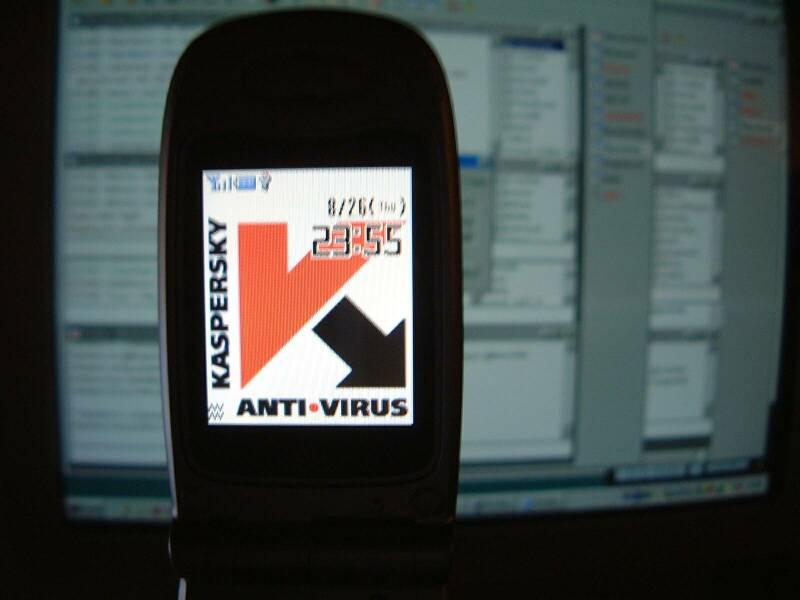 This is a Toshiba A1304TII with display size W:144×H:176
Here the file: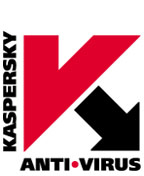 How to put it into the phone: Just send it per mail to the handy and register it as background :-)
2.) The Desktop Wallpapers (click to open full size or right-click and "Save target as..."):
| | | |
| --- | --- | --- |
| Before | | After |
| | | |
| made by lightmaker | | modified by Michael |
* Copy this to a convenient location onto your HD.
* On Windows: Just right click your mouse on an empty part of your desktop and from the menu, select "Configure Desktop". Select "Background". Click on the Wallpaper tab. Select either single, or multiple wallpapers and set your mode. Now just click on the browse button and navigate to the folder with the kdepersky.jpg, select it and click on OK. You should see it in the "Wallpaper" dialog. Now just click on OK and you now have a new desktop wallpaper.
* On *nix copy the file to /usr/share/wallpapers (just to name one location) and after that it should appear in the selectable Desktop Themes of the KDE Desktop configuration menu.
Following a picture with (from the left) Eugene Kaspersky, my Laptop and myself.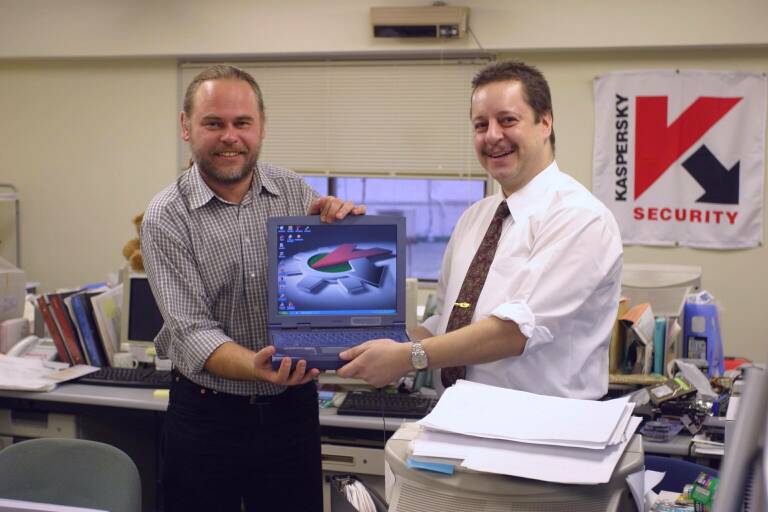 The above seen Laptop is running on battery power at this moment. Just a reminder ==> better NEVER try to plug a Japanese (110Volts) PC into a 220 Volts outlet :-) I can tell you, it WILL be snowing inner house and that strange smell will NOT go away for more than 1 week.

For complains, comments, suggestions, please feel free to send me mail.
. . . . . . . .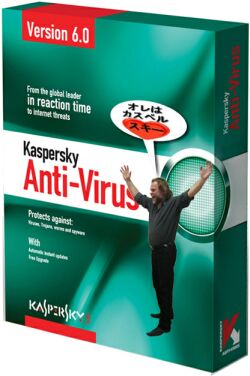 Kaspersky Labs © 2006
# Update DEC 5th 2004 did I mention that this laptop is a multiboot machine? There are about 13 bootable operating systems on it, more to come. So far it boots to Win 98SE, XP, Redhat, FreeBSD 4.10 and 5.2.1, 2 versions of Knoppix, Turbolinux, Mandrake, Debian, Suse and some others.